Extra Chilly Temperatures Bring on the PRICE FREEZE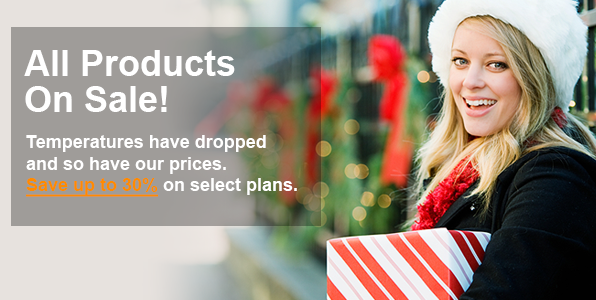 Brrrrrrrrr, do you feel that? How can you not! It's hard not to notice there's something in the air right about now; a sweeping freeze affecting the nation. No, we're not talking about the weather outside; we're referring to our sudden PRICE FREEZE!
The temperatures from state to state have dropped significantly, and as a result, so have our prices! Not only have our prices dropped, they're frozen at lower rates from now until February.

This freeze favors no one, and none of our products have been spared either. So, while it might be hard to see the bright side on such cold days, we're sure you'll warm up to this offer while it's available!
We're offering discounts on everything including all of our hosting services, website building services, domain names, cloud services and dedicated servers. For those looking for either a new hosting plan or a reseller plan, you can save 30% off our original prices now through February PLUS an additional 25% off of your first month of cloud and dedicated server options!
So come on, if you've been putting off building your new website this is a great time to just get it done! We have all the tools and services you need to get your business up and online in no time. Instead of sitting inside, avoiding the cold and trying to fight off the boredom of being housebound, why not use this time wisely to get started on your New Year's resolution early by creating or growing a website that can help your business plans thrive!
Here's a breakdown of our coupon codes:
PRICEFREEZE = Shared (30%)
PRICEFREEZE = Reseller (30%)
PRICEFREEZE30 = Website builder (30%)
PRICEFREEZE25 = Cloud (25% first month)
PRICEFREEZE25 = Dedicated (25% first month)
If you have questions about the best way to either get started or how to add onto the efforts you've already made toward your current website, give us a call:
1-866-MIDPHASE
You'll want to take advantage of this offer before the freeze thaws out!